Thursday, March 22, 2007
Ugh. Urk. Not good.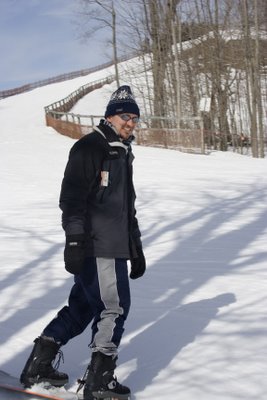 OK. I wa supposed to go the gym tonight. But my back was still alittle sore from my previous workout. Then I debated doing abs and some cardio. Nah. I walked on by. I walked home.
I felt guilty so I ate a whole sleeve of saltines with cream cheese. Ugh. What am I going to do with the three remaining sleeves?
JON
BTW no name saltines suck. avoid.
P.S me snowboarding last weekend.
Wednesday, March 7, 2007
China trip pics...finally
Yeah yeah yeah.
It starts in Bangkok, then moves to the jungles of Cambodia. Then in a rather jarring transition (hello neon!) enters western China. Some amazing scenery (can you spot the LENS 'top ten' sunset shot?) and finally into Hong Kong where things look familiar.
I picked these out to show my parents this weekend, so there are quite a few shots, of, well, me.
Asia Tour 06/07 photo montage
I love how, by putting 06/07 it implies I was gone for a long time. Ha ha.
I booked my return flight for May14th. Yeah, I have a few things to finish off before I am done with China...
JON
Here's the link:
Subscribe to Posts [Atom]